Connect to God and Others
Sunday Worship Services @ 10:50 a.m.
Worship is the heartbeat of our shared lives. And the heart of worship is Christ in proclamation and communion. This is where God connects to us and begins working through us.
Our typical Sunday Service:
Enter - Music and Song
Welcome - Opening Words and Prayer
Song - Hymn
Prayers of the People - Prayer Requests, Lord's Prayer
Scripture Reading - Psalms and New or Old Testament Readings
Anthem - Special Music or Hymn
Message - 12-20 minute Sermon
Communion - Sharing the Bread and Cup
Sharing - Offering and Communion
Song - Hymn
Benediction
Our Table is open to all who believe Jesus is their Lord and Savior. Come as you are and who you are! No restrictions and no tests of faith.
Come worship as you are, wear some comfortable clothing, and be prepared to open your heart to God and the Holy Spirit.
Children are welcome to worship with their parents, but options are available. Just let us know what your needs are so we can customize your visit and worship experience.
Pastor Brian follows the Revised Common Lectionary.
Worship Team
Looking for ways to get involved? Our worship team is called to use their creativity to improve our worship experience. We look to ancient, traditional, and contemporary variations of worship to help deliver a message of hope and love, to inspire and renew, and sing praises to God. If you are a creative person, love to praise God, and want to learn new things, then this team is for you.
Music Ministry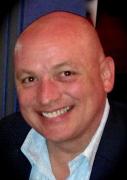 Steve Lent is our Music and Choir Director. Steve is not new to the area, as he has served in a few Disciples of Christ churches in Weatherford and Dallas-Ft. Worth area. We are excited to have him on our worship team. Steve also offers piano and vocal lessons in Weatherford and in Mineral Wells. Please contact the church for more information.
We have a children's handbell choir so children may be more involved in worship. Rehearsals for the handbell choir occur during Godly Play on Sunday mornings.

Children in Sacred Spaces
We believe when children are involved in worship, classes, and other activities, they tend to have lasting spiritual and religious lives. We believe older youth should participate as worship leaders, greeters, and deacons. For our smaller ones, we provide them with age-appropriate bulletins, crayons and pencils, and activities so they can attend worship.
A volunteer will be glad to watch your child(ren) (up to age 4) in the nursery if you choose. Please let us know if you plan on visiting and need these services.
We have volunteers ready to serve you and your little ones; however, we are looking for a full-time nursery attendant.
All who work, teach, and mentor children have background checks completed annually.
Godly Play
Children come to know and trust in God through Godly Play. Located next to the nursery is a dedicated room for children to hear, sing, and learn about the story of God. Teachers use interactive (no videotapes) methods to teach children about the major biblical stories, allowing each child to explore and ask questions, inviting them to be a part of the story in a variety of ways.
We offer Godly play at 9:30 a.m. Sunday mornings and 6:00 p.m. on Wednesdays. There are special times during the year when the children share with the congregation what they have learned.