To Apply What We Learned
Tree of Angels | Live Nativity | Christmas for Homeless and Lonely | Community Workshops | Center of Life | Spooky Wells | PPISD Mission | Emergency Fund Assitance | Prescription Drug Assitance Program


Tree of Angels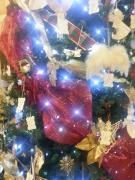 "In 1991, the Tree of Angels was initiated in Austin, Texas by Verna Lee, Executive Advisor of People Against Violent Crime, to recognize that the holiday season is a difficult time for victims and their families. This special event in December honors surviving victims of violent crime and victims' families by making it possible for loved ones to bring an Angel to place on a special Christmas tree. It is our hope that the Tree of Angels allows us to remember, include, and support victims of crime. These innocent victims are a part of our lives and a part of the community. Since its inception, the Tree of Angels has become a memorable tradition observed in many Texas communities." http://www.peopleagainstviolentcrime.org
First Christian Church will host again in 2021. Families, whose loved ones are represented on the Tree of Angels, are welcome to participate in the ceremony, hang an angel on the tree for their loved one(s), and visit the tree as they need. The Tree of Angels is put up the day prior to the ceremony and put away after the Christmas holiday. The Palo Pinto District Attorneys' office is the POC for the ceremony.
For future times and locations, click here.
Live Nativity
The Live Nativity at FCCMW will be here this December (we hope and pray). Covid-19 has upset our "normal." We believe this year will be better. We tentatively plan this year's event will be December 11, 2021, @ 6:30 p.m.

Live Nativity has been a growing tradition in the life of the church. The nativity is presented in one show beginning at 6:30 p.m. We'll have cookies and hot chocolate offered at 6:00 p.m. which will you plenty of time to pet the animals (goats, cow, donkey, and camel) and fellowship. There is no cost to attend or participate.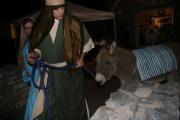 During the show, the scripture stories of Christ's birth are read, the characters come out and fill in the scene, music is heard and sung. You'll have a chance to sing with us and be a part of the scene. Once all the characters are present, there is a brief meditation and time to take pictures or just take it in. The characters will exit and the show concludes. The show lasts about 40-45 minutes. People may drive by to view the scene; however, getting out and experiencing this inspirational event is strongly suggested.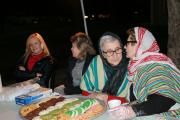 Community members are welcome to participate in the pageant (look for announcements on Facebook). There is no cost or obligation to attend; however, canned foods and warm gently-used clothing donations are welcome. All donations will go to the Center of Life.
The Live Nativity is presented on the second Saturday of December in the park in front of the church.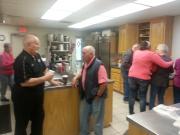 The Christmas Brunch will be back in 2021! We feed those experiencing homelessness through the Center of Life on the first and third Wednesdays of the month.
The Christmas Brunch for the Homeless and Lonely began in 2017 to remind us of what Christmas is truly about - God coming to heal the sick, feed the hungry, set free the captives, and gather the lonely and outcast. We want to reinforce Christ's teaching by sharing Christ's love through a meal and conversation. Christmas morning, we open the doors to serve those who desire a hot breakfast and enjoy some company and warmth. We recently expanded our service to include take-out for those families living in emergency housing and those who are disabled and cannot walk or drive to the church (living within 10 miles of the church). Volunteers from the congregation and community come to cook, clean, package, deliver and visit.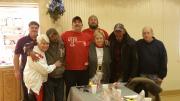 If you would like to help, please contact us between November 1 and December 20. This ministry continues to grow each year, and we hope to continue to impact lives for years to come.
Our menu includes buttermilk pancakes, bacon, scrambled eggs, biscuits and gravy, orange juice, milk, and coffee. Those who dine in can eat as much as they want. Take-out orders are limited servings and must be ordered by 10:30 a.m. on Christmas Day. We also pass out stockings filled with toiletries, socks, washcloths, fresh apples and oranges, and hard candy.

Community Workshops

The Grief Support Ministry began in 2016 and has been successful in helping individuals navigate their grief. Pastor Brian facilitates this group with compassion and active listening. If individual counseling is needed, an assessment of your needs will be made and appropriate referrals will be offered. This is not a faith-based program; however, we will encourage people to speak about their faith journey as one of many coping tools.
We will be starting a support group in late July 2021. The support group will meet on Thursdays, at Boyce Ditto Public Library in Mineral Wells, from noon to 1 p.m. Contact the church office for more information and sign-up.

Community Partners

We moved our food pantry to Mineral Wells Center of Life in 2016. Our ministry outgrew our capacity to serve those in need and we were pleased the Center of Life continues this ministry. We refer to all assistance requests to the Center of Life since our outreach donations primarily go to them to serve local needs. There are specific requirements that need to be met to receive some kinds of assistance. We appreciate this community partnership in serving those in need in Mineral Wells.
Pastor Brian has been recently selected to sit on the Center of Life Board and is excited to serve the community of Mineral Wells.
Chamber of Commerce Community Events

In 2018, the first Spooky Wells Festival, put on by the Mineral Wells Chamber of Commerce, gathered local businesses and agencies to celebrate Halloween. We participate with a game booth, to share in the fun and meet new people. Stop by our booth this coming Halloween - games for children up to 17 years old, a drawing for a 10-lbs Candy Basket, and goodies for the family.
Public School Ministry
We adopted Palo Pinto Elementary School to support the staff, teachers, and students. We donate teacher supplies twice a year to help offset out-of-pocket expenses for teachers. We also answer the call to assist the PTO for any programs and projects where they may need additional hands (i.e. teacher's appreciation week lunch and volunteer help at their fall festival fundraiser). Other projects will come up as we build our relationship with them.
Pastor Brian is a member of the Pastors for Texas Children. PTC advocates for public education through faith and political advocacy.
Pastor's Fund

Our emergency funds are extremely limited. Needs are high in Mineral Wells.
Pastor's Fund Policy
The Pastor's Fund policy establishes guidelines to evaluate, assist, and follow-up with individuals and families in emergency situations:
eviction notices, heating/cooling bill overdue, food shortage, shelter
some prescription drug assistance may be granted
Active members of the church will have first access to these funds. Non-active members and non-members will be evaluated on a case-by-case basis.
Active Members: 1-time assistance up to $100 every 6 months (must present bill, notice, or need in-person). Some medical funding assistance may be given.
Others: 1-time assistance up to $50 per year (must present bill, notice, or need in-person). No medical funding assistance will be given.
Funds will only be distributed if funds exist in the Pastor's Fund. Funds tend to be spent toward the first of the month.
Assistance may only be given if the individual or family has been denied funds by the Center of Life or other helping agencies (please call other agencies first - we will need their name and number to verify).
Bills, rent, and shelter needs are paid directly to the company. Grocery assistance will be given in a prepaid card, or a preselected menu will be purchased for the requestor. Medical funds will be paid directly to the agency.
Prescription Drug Assistance Program

We give part of our tithes and offerings to what is commonly referred to as the Prescription Drug Assistance Program. It is actually the Medication Assistance County Assistance Program (CAPS) located on the first floor of Palo Pinto General Hospital. Call 940-328-6578 for information and assistance. Not eligible if receiving Medicaid/Medicare.
The Palo Pinto Ministerial Alliance also collects funds for the prescription fund through the Thanksgiving Community Service.